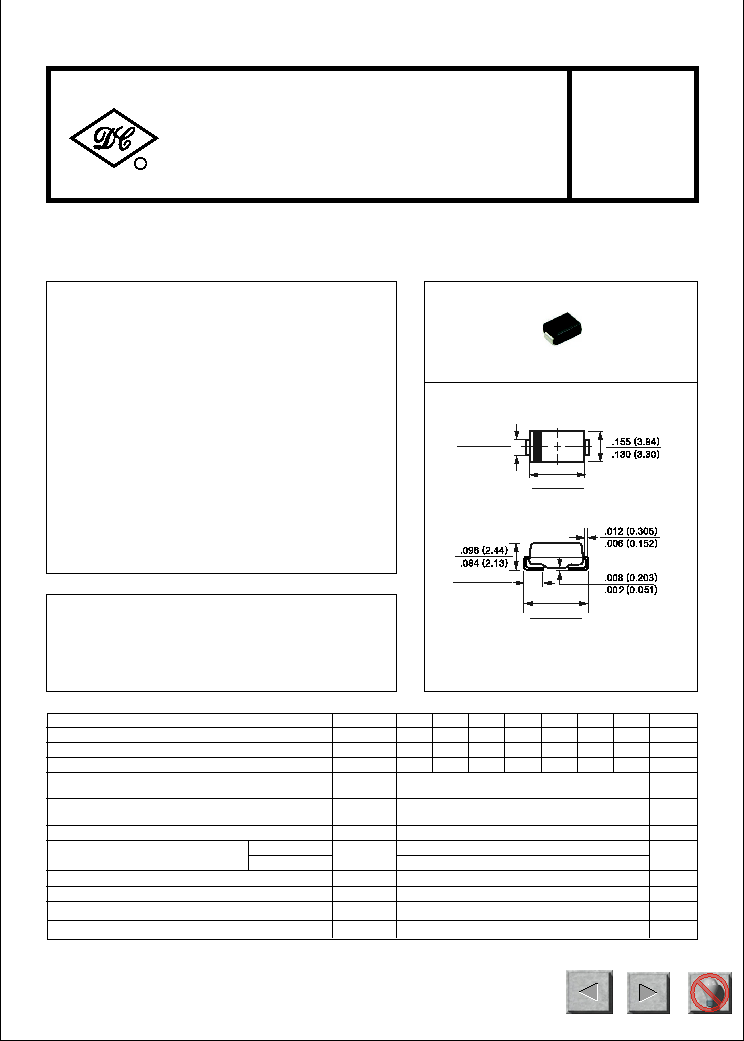 S1A S1B S1D S1G S1J S1K S1M
50 100 200 400 600 800 1000
35 70 140 280 420 560 700
50 100 200 400 600 800 1000
TECHNICAL SPECIFICATIONS OF SURFACE MOUNT SILICON RECTIFIER
VOLTAGE RANGE - 50 to 1000 Volts CURRENT - 1.0 Ampere
MAXIMUM RATINGS AND ELECTRICAL CHARACTERISTICS
C ambient temperature unless otherwise specified.
Single phase, half wave, 60 Hz, resistive or inductive load.
For capacitive load, derate current by 20%.
NOTES : 1. Measured at 1 MHz and applied reverse voltage of 4.0 volts.
2. Thermal Resistance (Junction to Ambient), 0.2x0.2in (5X5mm )
copper pads to each terminal.
3. Test Conditions: IF=0.5A, IR=1.0A, IRR=0.25A.
Dimensions in inches and (millimeters)
Maximum DC Reverse Current
at Rated DC Blocking Voltage
Maximum Instantaneous Forward Voltage at 1.0A DC
Maximum Recurrent Peak Reverse Voltage
Maximum DC Blocking Voltage
Maximum Average Forward Rectified Current
at TA = 75 C
Peak Forward Surge Current 8.3 ms single half sine-wave
superimposed on rated load (JEDEC Method)
Typical Thermaesistance (Note 2)
Operating and Storage Temperature Range
Typical Junction Capacitance (Note 1)
DC COMPONENTS CO., LTD.
* Glass passivated junction
* ldeal for surface mounted applications
* Low leakage current
* Case: Molded plastic
* Epoxy: UL 94V-0 rate flame retardant
* Mounting position: Any
* Weight: 0.093 gram
*Terminals: Solder plated, solderable per
Maximum Reverse Recovery Time (Note 3)
.220(5.59)
.200(5.08)
.060(1.52)
.030(0.76)
.185(4.70)
.160(4.06)
.083(2.11)
.075(1.91)
342
DC COMPONENTS CO., LTD.
RATING AND CHARACTERISTIC CURVES (S1A THRU S1M)
343