4-ch MOTOR DRIVER FOR PORTABLE CD PLAYERS
YD5901
DESCRIPTION
This driver IC contains a 4ch H bridge driver and DC-DC converter control circuit on one chip, and was
developed for use in portable CD players. QFP-44 is used for the package, making it ideal for smaller sets.

FEATURES

*Built-in 4ch H Bridge Driver, and PWM Control of Load Drive Voltage is Made Possible by External
*DC-DC Converter Control Circuit on Chip.
* With Reset Output Inversion Output Pin.
*Empty Detection Level Can be Switched Between Rechargeable Battery and Dry Battery.
*Constant Current Charging; Current Value Can be Varied Using External Resistor.
*Built-in Power Transistor For Charging.
*Built-in Independent Thermal Shutdown Circuit.
WuXi YouDa Electronics Co., Ltd
Add: No.5 Xijin Road, National Hi-Tech Industrial Development Zone, Wuxi Jiangsu China
Tel: 86-510-5205117 86-510-5205108 Fax: 86-510-5205110 Website: www.e-youda.com
SHENZHEN OFFICE Tel 86-755-83740369 13823533350 Fax 86-755-83741418
Ver 3.1 1 of 10 2004-9-20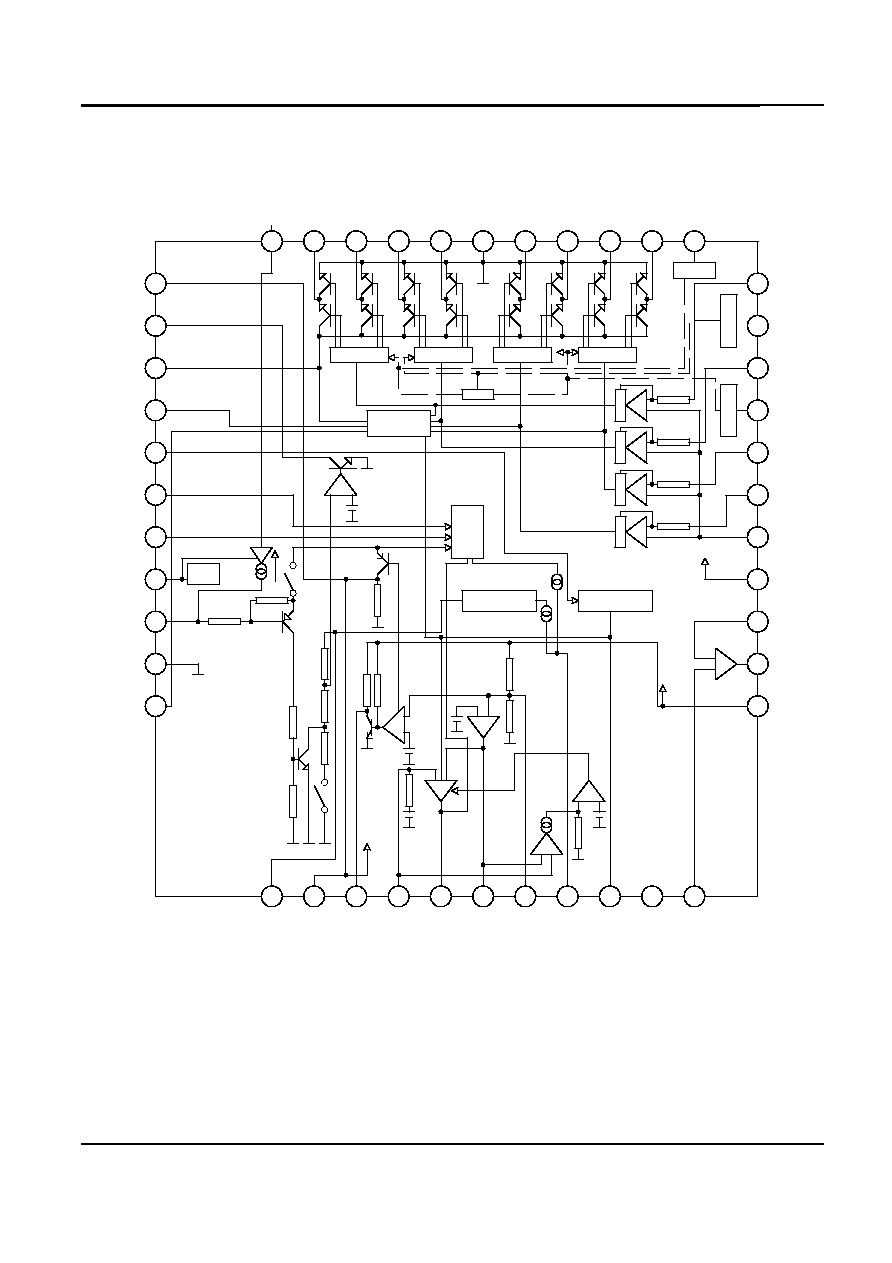 BLOCK DIAGRAM
/
I
+
-









WuXi YouDa Electronics Co., Ltd 2 of 10 Website: www.e-youda.com
ABSOLUTE MAXIMUM RATINGS
PARAMETER SYMBOL
VALUE
UNIT
*1 Vcc shows input voltage of VSYS1, VSYS3, HVcc, BATT, and CHGVcc.
*2 Reduced by 5mW for each increase in Tamb of 1 over 25.
ELECTRICAL CHARACTERISTICS
(Unless otherwise specified, Tamb=25, BATT=2.4V,
VSYS1=VSYS2=3.2V, Vref=1.6V, CHGVcc=0V, fCLK=88.2kHz)
PARAMETER
SYMBO
L
TEST CONDITIONS
MIN
TYP
MAX
UNIT
Common Section
H-Bridge Driver Part

WuXi YouDa Electronics Co., Ltd 3 of 10 Website: www.e-youda.com
H-Bridge Driver Part
MUTE2 OFF Threshold
Current difference between
PWM Power Supply Driving
HVcc-OUT1F 0.35 0.45 0.55 V
DC-DC Converter
Error Amp

WuXi YouDa Electronics Co., Ltd 4 of 10 Website: www.e-youda.com
Short Circuit Protection
Transistor Driving


WuXi YouDa Electronics Co., Ltd 5 of 10 Website: www.e-youda.com