| | | |
| --- | --- | --- |
| | Электронный компонент: | Скачать: PDF ZIP | - 1 -
REV. 1.0 November. 2. 2000
128Mb DDR SDRAM
- 2 -
REV. 1.0 November. 2. 2000
128Mb DDR SDRAM
Revision History
Version 0 (May, 1998)
- First version for internal review
Version 0.1(June, 1998)
- Added x4 organization
Version 0.2(Sep,1998)
1. Added "Issue prcharge command for all banks of the device" as the fourth step of power-up squence.
2. In power down mode timing diagram, NOP condition is added to precharge power down exit.
Version 0.3(Dec,1998)
- Added QFC Function.
- Added DC current value
- Reduce I/O capacitance values
Version 0.4(Feb,1999)
-Added DDR SDRAM history for reference(refer to the following page)
-Added low power version DC spec
Version 0.5(Apr,1999)
-Revised following first showing for JEDEC standard
-Added DC target current based on new DC test condition
Version 0.6(July 1,1999)
1.Modified binning policy
From To
-Z (133Mhz) -Z (133Mhz/266Mbps@CL=2)
-8 (125Mhz) -Y (133Mhz/266Mbps@CL=2.5)
-0 (100Mhz) -0 (100Mhz/200Mbps@CL=2)
2.Modified the following AC spec values
: Changed description method for the same functionality. This means no difference from the previous version.
3.Changed the following AC parameter symbol
From. To.
Output data access time from CK/CK tDQCK tAC
Version 0.61(August 9,1999)
- Changed the some values of "write with auto precharge" table for different bank in page 31.

- 3 -
REV. 1.0 November. 2. 2000
128Mb DDR SDRAM
Revision History(continued)
Version 0.7 (March, 2000)
- Changed 128Mb spec from target to Preliminary version.
- Changed partnames as follows.

- Changed input cap. spec.
- Changed operating condition.
- Added Overshoot/Undershoot spec
. Vih(max) = 4.2V, the overshoot voltage duration is
. Vil(min) =- 1.5V, the overshoot voltage duration is
- Changed AC parameters as follows.
Version 0.71 (April, 2000)
- Corrected a typo for tRAS at 133Mhz/CL2.5 from 48ns t0 45ns.
- Corrected a typo in "General Information" table from 64Mx4 to 8Mx16.
Version 0.72(May,2000)
- Changed DC spec item & test condition
Version 0.73(June,2000)
- Added updated DC spec values
- Deleted tDAL in AC parameter
Version 1.0(November,2000)
- Eliminate "preliminary"
2.0pF ~ 3.0pF w/ Delta Cin = 0.25pF
4.0pF ~ 5.0pF w/ Delta Cin = 0.5pF
2.0pF ~ 3.0pF with Delta Cin = 0.5pF
+/- 0.5(PC266), +/- 0.6(PC200) - 4 -
REV. 1.0 November. 2. 2000
128Mb DDR SDRAM
Contents
1.2 Operating Frequencies
2. Package Pinout & Dimension
2.2 Input/Output Function Description
2.3 66 Pin TSOP(II)/MS-024FC Package Physical Dimension
3. Functional Description
3.1 Simplified State Diagram
3.2.1 Power-Up Sequence
3.2.2 Mode Register Definition
3.2.2.1 Mode Register Set(MRS)
3.2.2.2 Extended Mode Register Set(EMRS)
3.2.3 Precharge
3.2.4 No Operation(NOP) & Device Deselect
3.2.5 Row Active
3.2.6 Read Bank
3.2.7 Write Bank
3.3 Essential Functionality for DDR SDRAM
3.3.1 Burst Read Operation
3.3.2 Burst Write Operation
3.3.3 Read Interrupted by a Read
3.3.4 Read Interrupted by a Write & Burst Stop
3.3.5 Read Interrupted by a Precharge
3.3.6 Write Interrupted by a Write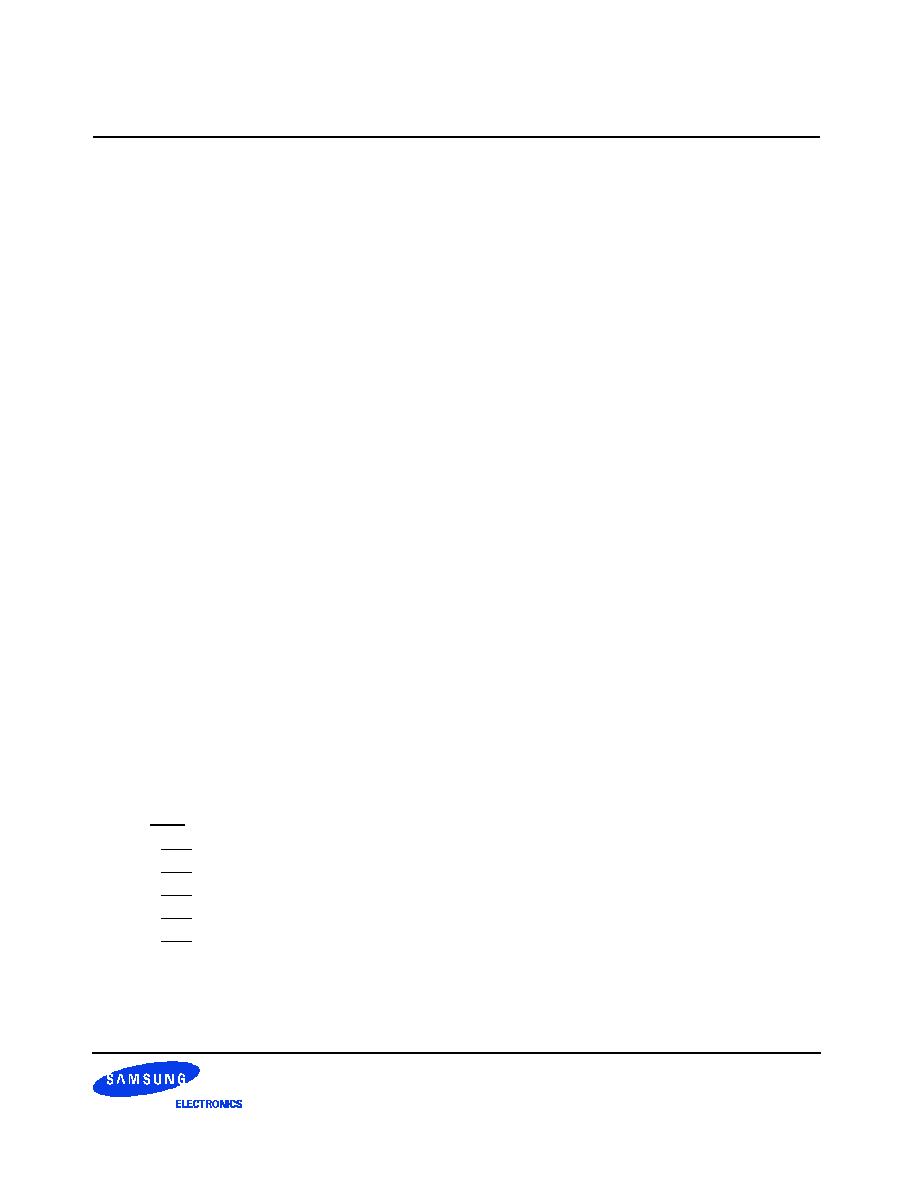 - 5 -
REV. 1.0 November. 2. 2000
128Mb DDR SDRAM
3.3.7 Write Interrupted by a Read & DM
3.3.8 Write Interrupted by a Precharge & DM
3.3.11 Read With Auto Precharge
3.3.12 Write With Auto Precharge
3.3.13 Auto Refresh & Self Refresh
5. Functional Truth Table
6. Absolute Maximum Rating
7. DC Operating Conditions & Specifications
7.1 DC Operating Conditions
8. AC Operating Conditions & Timming Specification
8.1 AC Operating Conditions
8.2 AC Timming Parameters & Specification
9. AC Operating Test Conditions
10. Input/Output Capacitance
11. IBIS: I/V Characteristics for Input and Output Buffers
11.1 Normal strength driver
11.2 Half strength driver( will be included in the future)
QFC definition
QFC timming on Read Operation
QFC timming on Write operation with tDQSSmax
QFC timming on Write operation with tDQSSmin
QFC timming example for interrupted writes operation
26
27
28
29
30
31
32
33
40
41
42
42
43
46
46
48
49
49
49
50
50
51
52